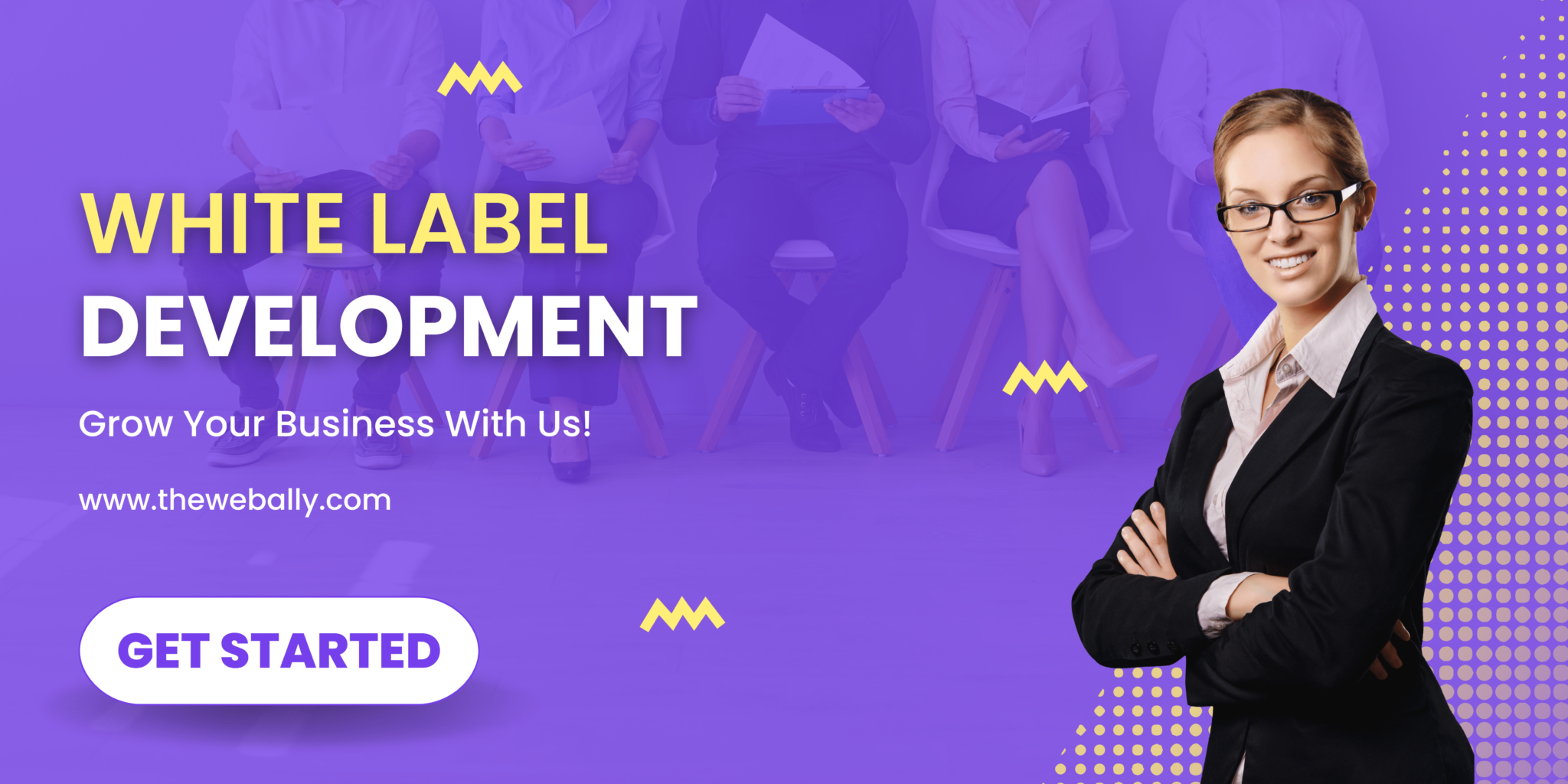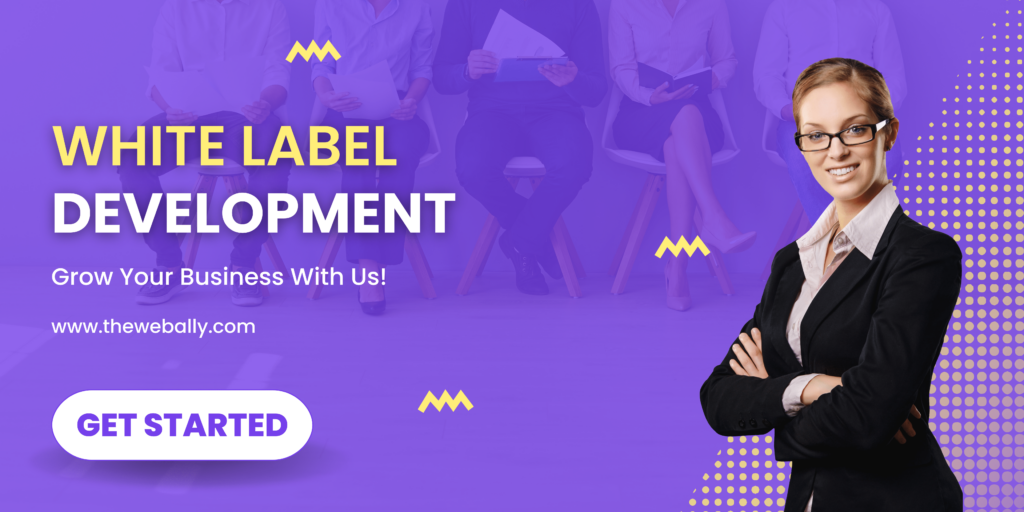 Did you know that the same global factories supply multiple brands with their items? For example, the same supplier in India, C.L. Gupta Exports, Ltd., provides products for Pier 1, Target, IKEA, Crate & Barrel, Restoration Hardware, and Ashley Furniture.
The item itself is the same, but the label and pricing are entirely different. This is the essence of white label clothing—that is, the manufacturer that creates the product is very different from the one who sells it to the final customer.
But white label can apply to app development or software development as well. Read on to find out the basics of white label development and if it's for you.
What Is White Label Development?
Perhaps you are thinking about creating an app or software, but you don't have the team to create one. So what can you do? You find someone else to create the app for you, right?
Well, there are white label developers all over who specialise in doing just that. They are like the ghostwriters of the app or software development world.
Ghostwriters write a novel or article, but when the book or article gets published, it has an entirely different name on it.
James Patterson is well-known in the industry for being a prolific writer, but he doesn't write a lot of his books himself. His ghostwriters do. Patterson just outlines them.
Sometimes ghostwriters are given credit on the book covers as co-authors. But in the case of white label app development, that never happens.
The white label developer will create the app, based on your specifications, and then you are free to market and sell the app as you wish. Your name, and no one else's, appears on the app as the seller.
You are free to sell the app to other customers or other businesses. That's your prerogative.
Advantages of Using a White Label Developer
As you can imagine, there are many advantages to using a white label developer rather than finding a team to create the software or app on your own. Let's look at some of them below.
Quicker Turnaround Time
Because white label developers have a huge team who are focused entirely on the business of app and software development, you know that you are going to get what you requested in record time. It's incomparable to how long it would take you to build a team of talented people and get them to build your app.
It's also much better than hiring someone off Fiverr or some other freelance site and getting them to build your app. There are no communication problems, and everything is done up to your high standards.
More Cost-Effective
Since developers will take less time to build the app, you can start selling it sooner. Thus, you can start getting your investment back quicker. This makes the whole endeavor cost-effective.
Look at the big picture when hiring a white label developer. Even if they charge a higher up-front fee, they are much cheaper in the long run, as you will spend less time chasing them to get a quality finished product.
White Label Developers Have Immense Experience
White label development companies are experts in creating white label apps and software. They do this day in and day out for dozens of companies like you. This immense experience is something that you will appreciate when the entire buying process from start to finish is seamless.
No Need to Worry About Maintenance
The white label developer is responsible for updates, upkeep, and upgrade of the white label app. They will also host and monitor the app on their servers. This means you don't have to worry about all this, and you can focus entirely on marketing and selling the app to your customers, either B2C or B2B.
Minimises Stress
The entire white label development process is stress-free for you as a customer. This is not their first turn around the merry-go-round. They have done this before for many other companies, so they have honed and perfected their process to a T.
You can benefit from all that experience. In no time, you will have the app that you wish to sell to your customers, and you don't have to worry about legal complications or anything like this, since the app was yours from the moment they started building it.

It All Starts with a Consultation
When you decide that you are interested in creating a complex app, the first thing you need to do is have a consultation with a white label developer. During this consultation phase, a bit of brainstorming will happen to delineate exactly what you wish for your app to do.
Some things that will be outlined are:
The best features you wish to include
The target users of your app
What you want the finished app to look like
With all this information in mind, the white label development team will know if their team is best for what you are looking for. If it is, then they will go off and start their work, once the contract is signed.
The app development process will depend on how many features you want and how complex the app is. Everything within the app will fit your company's aesthetic and branding. This is ensured from the very beginning.
You are not alone when it comes to the app launch either. With the assistance of the white label developer, your app launch will go glitch-free. The app development team will support you even post launch to ensure everything runs smoothly.
Ready to Hire a White Label Developer?
When you search through all the development options you have and look at the advantages of using a white label developer, the choice is absolutely clear. If you already know what kind of software or app you wish to create, then contact us today. The Web Ally Development Studio is ready to become your invisible partner in building your dream app.
We are living through incredibly difficult times which are forcing us to find new ways of interacting with our colleagues, friends and family. A lot of these interactions are moving to the online world, with people collaborating over tools such as Zoom and Teams. Unfortunately not all of us have the luxury of being able to work from home, and with lock-down measures being imposed all over the world, many businesses will suffer.
In a bid to stay safe and healthy, and obey lock-down rules, people across all demographics are resorting to the internet to get their daily essentials done, to work but also to stay fit and entertained. Never has it been so important to have an online presence. Be it grocery shopping, to retail therapy to gym exercises, we've all been forced to shift all our interactions quite suddenly and abruptly to the digital world.
If this pandemic is to be controlled, then we will need to get used to this digital way of doing things in order to maintain a degree of normalcy in our lives. And after all this is over, digital will probably be the new norm for many of us.
If you are a business still without a digital footprint, it is time to consider your online strategy now. Investing in a website, having a social media presence, and getting an e-shop can be a game changer, in times when many of us are forced to re-invent the way we operate. Getting your store or your services online means you can still connect with your customers, provide them with service they have to depend upon, from the comfort of their homes, and also keep your business going.
Do you want to save your business?
Contact us today for a FREE consultation to see how The Web Ally can help your business succeed.
You're likely familiar with the practice of white labelling without even knowing that's what it's called. Think of a product that is manufactured by one company while another company brings it to market to sell with their branding.
White labelling in the web and tech industries is a newer practice. This is when software and development services are sold unbranded by one company and then sold and branded by another.
When it comes to saving time, resources and money, it's no wonder the practice of white labelling is gaining momentum. Read on to learn more about white labelling, how it works, as well as some of the pros and cons.
What is White Labelling?
White labelling is when a product or service is sold under one name but it was actually made or created by a different company.
When a marketing company or web design firm needs help providing certain services to a client, they can use white labelling to fill in the gaps.
In terms of software development, web development services can also be white-labelled. Not to be confused with outsourcing, white labeling has increased in popularity in recent years.
How White Labelling Works
Having a great idea and being able to transform that into a viable business takes resources, talents, and staff. White labelling is a crucial resource for many businesses, especially small companies and start-ups trying to compete with industry giants.
When a company utilizes white labelling services they are paying a third party company to complete a task needed by a client. The company will then charge more than the third party is charging for white label software.
Utilizing the practice of white labelling can save a small company a lot of time and resources. Using white labelling can greatly increase distribution power as well.
Why Use These Services?
Smaller companies may find it hard to provide the full line of services needed to keep up with a larger firm. When a marketing company or web design firm needs help providing certain services to a client, they can use white labelling to provide the services they are lacking.
Many services would require a large, highly skilled staff that a small company wouldn't be able to afford on a constant basis.
A fleet of software can also be sold quickly without the need for development. Think about how much money can be saved on in-house staff and overhead costs. Not to mention the development time.
Ready to Sell Services and Products
White label software and solutions that are already ready to go are a great option as well. New services and products are delivered to your business in no time. You can turn around and sell these services or products almost immediately.
These white label solutions are usually ready-to-sell, fully integrated, tested, and vetted. All you need to do is brand them and hit the market. There is no time wasted on development and testing.
White label software and products such as these will give your customer a product almost immediately. Since there's no ramp-up time for them to wait for development, this is a major selling feature.
Forbes discusses how there's no need to reinvent the wheel. Mistakes and kinks are already flushed out by the time you get the finished product with white labelling.
The Pros of Using White Label Services
Using a white labelling strategy can open up a company to being able to provide a wider array of services as well. This can help gain market share and referrals. Companies can gauge what to charge based on their costs to the other company.
White labelling allows company owners and principals more time to pitch new clients, promote their brand and market the company. With time freed up by delegating work, there's more time to focus on business development.
Techopedia discusses the perks of white labelling and how a company can save a lot of resources on the development. Research and development, also known as R&D can cost small companies a lot of money and time.
Potential Cons with White Labelling
While there are more pros than cons when it comes to using white label services, there is always the potential for problems. One common issue is that you are now the middle man. Miscommunications may arise when you're translating the needs of your client to a third party.
Misunderstandings are bound to happen. Communication and clear expectations are key here. The clearer you are in terms of feedback, deadlines, and goals, the better.
Time is money. If a project gets underbid or takes longer than planned, you run the risk of eating into your profits. This is why communication is so important. You'll always want to build in extra time and money for any issues that come up.
Communication Benefits
By using white labelling services, you'll be able to focus on your client's end goal instead of the logistics involved with completing their project. Outsourcing to an expert can help take the pressure off of you.
You can make sure your client's needs are met by being the communication bridge between your client and your white label service provider.
One of the best perks to outsourcing is that it really lets you focus on the relationship you have with your client.
Wrap-Up
A white-labelled solution helps you get products developed by a specialist for your clients. If there is someone else who is an outsourced developer who can create a product better than you can, it's worth the cost and time savings.
By using white label solutions, you'll have more time to devote to business development.
There's no need to start from scratch and hire full-time experts. The Web Ally is ready to get started on your next web project. Contact them here to talk about your needs.
Do you need to outsource your development? Our team is here to help you!
Contact us today to see how The Web Ally can help your business succeed.
The world has shifted from analog to digital. Even marketing has followed suit as advertising and selling products has reached the realm of the internet. Digital marketing has become ever more important for any kind of business today. Because of that, every kind of company needs to go try digital marketing. Here are some other reasons why they should:
Results are tangible
You use banners and billboards when you do a physical marketing campaign, the disadvantages of this is that you don't have a way to tell whether it has penetrated your target audience. You also don't know if you were able to achieve the target of traffic/conversions that you had in mind. However, digital marketing is different.
With digital marketing, you get to know if you are reaching your target audience well and if it has penetrated the market. Whether it's from click-through rates or from completed online sales, you can monitor how well your digital marketing campaign is affecting your business's success.
Affordable
Digital marketing is far more affordable compared to other traditional marketing campaigns. You can easily monitor your expenses in digital marketing as opposed to traditional offline schemes. For example, when you advertise through Google, you pay based on the number of clicks your ad gets. You never pay more than what you are getting. Digital marketing is also more cost-efficient because you are getting more bang for your buck due to the simplicity of finding out if your marketing campaign is working or not.
Reach and targeting
When you start a digital marketing campaign, your reach is wider than traditional campaigns. You can reach people you normally can't reach if you go digital. The best part is that you can target your audience. When you go for traditional marketing schemes like billboard advertising, you never know who is looking at your ad and if it really is positively affecting your business. However, in digital marketing, you can choose who you want to see your ads depending on demographics, gender, age, and location. You aren't normally randomly targeting your audience in digital marketing as opposed to traditional methods of advertising.
What's also great about digital marketing is that it is normally more attractive than traditional marketing methods. Because you are targeting your audience based on their interests, you will be able to make sure that the people seeing your ads are actually interested in what you are offering them.
Competitive edge
The best part about digital marketing is that you get a competitive edge over other business in the industry, especially if they are not making use of digital marketing campaigns. You will be able to reach a wider audience and target the people that are probably interested in your product because of digital marketing. And if your competitors are indeed using digital marketing, you can gain the edge over them if you are able to secure the services of a better digital marketing firm.
At The Web Ally, we offer in digital marketing services in Malta, and help companies on achieve great conversions online. Get in touch today to see how we can help.
Thinking of launching a Digital Marketing Campaign? Our team is here to help you!
Contact us today to see how The Web Ally can help your business succeed.
Are you up to date on the latest digital marketing trends?
With each new year, you need new strategies to stay on top of the digital marketing game. If you fall behind, it's hard to catch up – the competition will already be moving ahead.
I've put together this guide to make sure you stay up to date on the latest in the digital marketing world. Ready to learn what 2018's top trends are, and why they matter? Keep reading to find out more.
Why Digital Marketing Matters
Wondering why it's so important to keep up with digital marketing trends?
The reality is that if you want to run a successful business, digital marketing is a necessity. Before diving into the top trends of this year, let's talk about why digital marketing needs to be a part of your business strategy.
What is Digital Marketing?
Chances are good that you've heard the term "digital marketing" before, but may not yet know quite what it means.
Digital marketing is tricky to define since it's a broad term for a broad concept. However, digital marketing basically refers to all the ways a business can connect with potential customers online.
This can involve a lot of different tactics. Digital marketing may include (but isn't limited to) the following:
Company site
Social media pages
Online content (photos, videos, blog posts)
Email communications
Online ads
Apps and games
SEO strategies
E-commerce
Why does digital marketing matter? Here are a few top reasons why digital marketing is so important.
1. Helps With Branding
It's not enough to just sell good products anymore. Today's customers are all about branding and brand stories. You need to be able to share your brand with people to get them committed to your company and its vision, and digital marketing is the best way to do it.
On your company website, you can give a clear message about what you stand for. Customers love information about a company's philosophy, origin story, and staff.
Through sharing videos, photos, and posts on social media and on the site, you can refine that message and keep customers invested in the story. Digital marketing helps customers feel like they can get to know your company.
2. Increases Visibility
Simply getting your company in front of potential customer's eyes is easier said than done. But thanks to digital marketing, you can increase your company's visibility at a relatively low cost.
Without digital marketing, you will only be able to connect with a limited number of customers. Putting your brand online allows many more people to discover what your company has to offer.
3. Builds Community
Businesses do better when they have a strong network. Digital marketing helps you connect with other people and brands that can turn into valuable partnerships.
This also helps build community and relationships with your customers. Through shares, likes, and comments, you can interact directly with clients and potential clients, and they can share your brand with their online circles.
5. Provides Information
With digital marketing, you can build a valuable pool of data that are useful in making future decisions for your business.
You'll have a trail of analytics that lets you see who is visiting your site, when, and from where. You can easily see which content gets the most responses, and when it's the best time to post new things.
With this information, you can strategize how to best connect with your customers in the future. This allows you to grow your business without wasting time trying things that won't work.
2018's Top Digital Marketing Trends
Now that you know why digital marketing is so important for your company, let's take a look at the latest digital marketing trends.
In the online world, things move fast, and it's easy to get left behind. Digital marketing is only as good as the tactics you use. Make sure to follow these trends to stay on the cutting edge of competition.
1. Shifting Away from Influencers
Right now, many companies are putting lots of money toward digital influencers. However, not all of those influencers are successfully promoting products.
This year, companies will start to focus less on influencers in general, and more on those few that get results. Some people are great at getting results, while others are just on the bandwagon.
Brands will start to recognize that awareness of a product doesn't always translate into sales, and adjust strategies accordingly. If you've been putting money toward digital influencers, it's time to take a close look at the numbers and decide if it's really worth it.
2. Augmented Reality
Although the name sounds a bit creepy, augmented reality is already a common practice in digital marketing, and it's not as bizarre as it may sound.
Augmented reality uses digital input to "augment" a user's experience of reality. Just think of Pokemon Go, the popular app that shows gameplay against a real-world backdrop.
AR doesn't have to be nefarious: it's typically straightforward and fun for users. As apps and devices become more responsive and "smart," AR is poised to become an important part of digital marketing. For example, a brand's app could trigger sponsored AR content to appear when customers are near one of their stores.
3. Better Use of Data
As digital data is used by different brands, ways to use it more effectively are always being discovered. One of 2018's top digital marketing trends is sure to be companies using data to better understand the customer journey.
"Customer journey" refers to the steps the customer goes through before making a purchase. Data will be used to track exactly what each step along that path looks like, making it easier for brands to push people toward making a purchase.
4. Stronger Targeted Ads
Targeted ads strive to get the attention of today's customer, which can be a real challenge. Modern customers are good at filtering out anything that looks like traditional advertising and responds best to creativity and storytelling.
In 2018, targeted ads are going to become more refined and more effective at getting attention from these customers. Ads will become even more targeted to specific populations at specific places and times.
5. Higher-Quality Live Videos
Live video has become a huge part of digital marketing, especially since Facebook rolled out its "Live" feature. Customers love the raw, real-world feel of a live video.
However, this technology has been out long enough for brands to figure out how to use it strategically. One of those strategies is going to be creating higher-quality, professional live videos.
Live videos aren't so great when they're plagued by problems like noise, bad lighting, and shaky camera work. Adding professionalism means customers will still get the authentic experience of a live video with none of the drawbacks.
6. Automated Conversation
Siri, Alexa, and other automated conversationalists are now firmly out of the uncanny valley and a normal part of people's lives.
It's now easier than ever to create an automated conversation that is helpful and realistic. One of the latest digital marketing trends involves brands harnessing the power of automated conversation to interact with customers.
The conversation has been a natural way for brands to interact with customers since people first started selling things. However, paying customer service representatives to be on-staff can get expensive, especially when brands want to offer round-the-clock service.
Automated chats and phone calls can help meet customers' needs cheaply and effectively. Expect to see a lot more use of this strategy in the future.
7. Increased Personalization
Many current digital marketing trends, like targeted ads, show that customers respond well to personalization. This year, the level personalization will only increase.
Brands might try personalized email newsletters instead of generalized email blasts, for example. The more targeted and personalized each interaction with a potential customer is, the more likely it is to translate into a sale.
8. Integrating Digital and Non-Digital Worlds
As tactics like augmented reality hint, the future of digital marketing trends involve combining the digital world with the "real world."
Digital marketing shouldn't feel like something that happens separately from a customer's real life. In the future, brands are going to use online media to supplement in-person experience their customers have with their products, and vice-versa.
9. Use of Natural Speech Patterns
Today, more people are using voice-to-text to search for things online. The more companies learn to use natural speech patterns to their advantage, the better success they will have.
This includes things like using algorithms to predict what people will search for using voice, and how they will phrase it. People tend to say things differently out loud than they do via text. The better brands can understand that difference, the more they can use it to their advantage.
Which Digital Marketing Trends Will You Try?
Don't wait to see how these top digital marketing trends play out. Get ahead of the game by working some – or all – of them into your marketing strategy now.
Digital marketing will never be a static industry. A year from now, there will be a new set of trends to look at. However, those trends build on each other, so you'll want to make sure to jump on board with the latest trends now in order to be prepared for the future.
Of course, most small companies may not have the resources to tackle digital marketing alone. Need help staying on top of the trends? Contact us today!
Do you need help with your Digital Marketing Strategy? Our team is here to help you!
Contact us today to see how The Web Ally can help your business succeed.
Businesses often make a mistake in thinking all work should be performed in-house. Often, that's simply not the case.
Especially when it comes to your website development. In most cases, it makes a lot more sense for you to outsource that to a professional company.
If you're unconvinced, here are 10 reasons why.
1. Saves You Time
Time is one thing you can never make back. Time is also extremely precious to all business owners.
Most don't have enough time to manage everything they need to each day. Most business owners work an average of 40-60 hours per week.
And forget about getting holidays or paid vacations.
Which is why outsourcing your website development to another company is such a smart idea. You can allow the real professionals to do their job while you reap the myriad benefits.
You might even be able to cut down on your hours when you're not worried about whether or not your website is performing as well as it could.
2. Saves You Money
Outsourcing work to another company will always end up saving you money. You don't have to hire the talent. Nor do you have to pay out more money to retain these employees.
You don't have to pay for their health insurance, either. Neither will you have to pay for all the equipment and software necessary to provide your company with everything you need.
Instead, you can do some research and hire a website development company whose values and goals match your own. You can do it at a reasonable rate.
3. Allows You to Focus on Your Work
While it's true that every business owner must be a jack-of-all-trades, that doesn't mean you can excel at everything.
Nor do you have the time to learn every skill needed for every role in your company. Your company would suffer if you even tried to do everything.
Which is why outsourcing the very detailed, ever-changing, and technologically advanced world of website development makes sense.
Your company needs you to focus on what you do best, which is running a successful company. A great business owner understands that surrounding themselves with people more talented than they are is the key to success.
4. Unlimited Access Talent Who Understand Website Development
Any website development company worth their salt will hire the very best talent they can find. They also know exactly who they're looking for and what skills they need.
What that translates to is your company now has access to the very best talent.
You don't have to worry about recruiting them because they've already been found. Time, money, and energy by your company aren't wasted searching out the very best.
Instead, you merely reap the rewards because you were smart enough to outsource your needs to another great company. It's a win-win situation.
5. Additional Development Resources
It's impossible for a business owner who doesn't specialize in website development to have the resources and network they really need if they choose to keep it in-house.
However, outsourcing to a company who specializes in web technology and suddenly, you have access to all the resources they have.
The larger network your outsourced team has access to, the greater amount of accessible technologies you're able to cover.
6. Less Paperwork
Paperwork is a drudgery. When you outsource your website development, all the paperwork you really need to do is to sign a contract.
There is no hiring and firing of employees. There's no insurance paperwork to keep track of.
There's no need to figure out where the bill for the latest software is being kept.
Instead, there's usually a contract that's easy to understand. If you choose to part ways with your outsourced company, that shouldn't cause a lot of paperwork, either.
7. Ability to Improve Process
Of course, no matter if you choose to keep your website development in-house or you decide to outsource the work, problems can arise.
However, your problems with outsourcing are quite manageable.
Any company worth working with will have developed a great way to keep communication lines between themselves and their client open at all stages of the project.
Obviously, each company has their own corporate culture.
However, most companies share common values. Through excellent communication, it's actually possible to benefit even more greatly.
By outsourcing your development, you now have more time to focus on your sales and marketing efforts.
Working in tandem with the outsourced company can help you set and reach goals more quickly and efficiently.
8. Access to the Latest Technology
Whether you're a startup company or have been in business awhile, having access to the latest technology is necessary.
It's also expensive if you choose to keep it in-house. Outsourcing means having access to project supervision, UX design, testing, documenting, and deploying a web application.
Not only that, but you also have access to data and analytics which will help you recognize if the efforts are paying off or not.
9. Flexibility with Your Talent Resources
When business is going really well, it's easy to devote a lot of money towards your development efforts.
When things get a little slow or there's a downturn in the market, it's much more difficult to deal with.
When that happens, if you didn't outsource you'd have to consider dismissing part of your team. Then, when finances improved, you'd have to find the same talent or new talent.
The same goes for having access to the latest software technology. Perhaps you're at a point in your businesses development where paying for new software is too expensive.
That's why outsourcing is such a wonderful solution. It enables your company to engage in flexibility. You have the right resources at your fingertips exactly when you need it.
10. You'll Always Be on the Cutting Edge
Technology is always improving. It's tough to keep up with it.
When you outsource, you don't have to. That's their job.
They'll have access to the latest technology and software. They'll also have experts who know how to use it.
And how it will best help improve your business.
Hire the Best
Once you realize your best choice is to outsource, it's time to find the best company.
Do your homework before you settle on one company. Find one you'll feel comfortable working with for a long time.
We offer the expertise you want to help you grow your business. And a proven track record to prove it.
Are you considering outsourcing your website development?
Contact us today to see how The Web Ally can help your business succeed.
Looking to start working with a digital marketing agency?
Ready to boost your online presence?
Digital marketing is critically important for startups or businesses of any kind. However, while you may be eager to get started, it's best not to go with the first digital marketing agency you come across. Skillsets, reliability, and results can vary from agency to agency.
If you're looking for the perfect agency to work with, be sure to look for the following 10 things to make sure they're the real deal.
1. Industry Experience
When looking for a digital marketing agency it needs to be clear that they have years of experience in the industry. Look for professional credentials and past successes.
Also, do what you can to research the individual experience of anyone who works for the agency. See what kind of past experience they have in the field and if they have any degrees that make them qualified in the marketing and technology fields.
In an industry such as digital marketing, backgrounds can definitely vary greatly. But by taking the time to determine the experience of a company you'll know who you're working with and if they have what it takes to deliver on your needs.
2. Recommendations and Reviews
In addition to notes on their experience, great digital marketing agencies should have plenty of testimonials on their site. An agency that has been in business for a while should have plenty of satisfied customers who can attest to a business' expertise.
You should also look for reviews and opinions across the web. If you see plenty of poor reviews online you may want to turn the other way. Great sites to look for reviews include Google+, Facebook, Yelp, and the Better Business Bureau.
Additionally, ask for recommendations from contacts and friends as they may have experience with a particular agency you're considering working with.
3. Proof of Satisfied Past Clients
A professional agency will be able to put you in contact with references. It's important to evaluate the success that past clients have had with an agency and to communicate with them to get opinions on the agency.
An agency may also be able to show you a measured and full report of what they have achieved for businesses in the past and will be able to prove their success and know-how to you.
If they can't provide you with concrete evidence of success in the past, they may not be able to help your company achieve results in the present.
4. The Online Presence of the Digital Marketing Agency
If you're choosing a digital agency to work with, you should consider examing their own online presence and marketing efforts. Check to see if their own site is ranked in Google if their website looks professional and if their site seems to be well optimized for SEO.
However, in some cases be aware that this can be misleading. The agency may just be so focused on their clients that they fail to keep up with their own site.
While it's not always the case that an agency's own digital presence will reflect how they'll handle the marketing for your business, this can still be a good thing to consider to see if their money is where their mouth is.
5. Skills and Specialization
You also need to be aware that different digital marketing agencies will have different areas of expertise and specializations. Consider what you most need out of a relationship and go from there.
For example, if you are a local business you may need an agency that is well-versed in local SEO tactics.
Additionally, some agencies will be more geared for helping your business with PPC and paid search tactics, while others will be focused only on search engine marketing (SEM) and SEO.
Finally, you should also consider if an agency has experience or expertise working with your specific industry. If you're in healthcare, for example, you may want to look for a digital marketing agency that focuses on that industry and knows the specific needs of a healthcare organization.
6. A Focused and Tested Strategy
Any agency you consider should have solid strategies and operation methods in place that they can explain to you with clarity. If you ask them about their tactics and they have a wishy-washy response or can't fully describe just what it is they do, this may be a red flag.
A digital marketing agency should have a tested plan that will provide you with attainable, measurable results. They should be able to tell you about what they expect to achieve, what they have achieved in the past, and how each tactic they use will help your website or business succeed.
7. Open Communication and Transparent Reporting
Continuing off of the point above, a digital marketing agency should have a way to communicate what results they have achieved for your business. It's one thing to have a plan, but they need to show you that their plan is achieving the results you want throughout your relationship with them.
A reliable agency will be able to provide you with a regular report that shows statistics and analytics. These reports should show exactly what they have achieved for your business whether your goal is to gain more leads, website visits, or sales.
8. The Right Size
You need to also look for an agency that is the perfect size for having a relationship with your business. While there is no right answer, different sized agencies will have different strengths and weaknesses.
A small agency, for example, may be able to give you more personalized attention. They may also be a bit easier to communicate with, although this isn't always the case.
On the other hand, a large digital marketing agency will likely have a wealth of resources and tools at their disposal that a smaller agency may not have. However, in many cases, they won't be able to provide the personalized attention and easy communication that you may crave.
9. Costs That Are Defined By Value
Like the size of an agency, there isn't necessarily a correct cost. The right costs can vary from agency to agency and will depend on your needs. However, you need to consider the potential drawbacks of working with a marketing agency who charges too much or too little.
An agency who charges very little for their services, may not be able to deliver the results you need. You may get what you pay for and receive service that is less than satisfactory.
On the other hand, an agency that charges too much can also be disappointing. Some agencies are charging so much because they're relying on a well-marketed brand name rather than on the value they provide.
10. Access to Powerful Tools and Resources
You should also ask a digital marketing agency what tools they use and what kind of resources they have at their disposal.
A professional marketing agency will use many kinds of tools to achieve results for your business and get the job done right. These tools may be used for analytics, research, development, site optimization, management, or media buying.
While smaller agencies will likely have fewer tools than a large marketing firm, all professional agencies should have some professional tools that they will rely on to more effectively market your business.
Final Thoughts
Digital marketing couldn't be more important for your business. However, it's important that you find an agency that you trust and that you can build a relationship with
Take the time to look for all of the things and you'll make sure that whichever digital marketing agency you choose if fully capable of helping your business and getting the job done.
Ready to boost your online presence? Contact us today to see how The Web Ally can help your business succeed.
Ready to boost your online presence?
Contact us today to see how The Web Ally can help your business succeed.
Online Reputation Management. Have these 3 words ever come up within the walls of your work place?
Probably not. You may think that an internet reputation strategy is something only big corporations need worry about.
Well…. you would be wrong!
Let's face it, in today's world there really is no distinction between protecting your reputation and your online reputation. Everyone is online in some way or another.
It is therefore only logical that online reputation management should be considered by everyone, from the small family businesses around the corner to the larger multinational corporations. In fact, anyone who wishes to protect their brand and their image from all hearsay found on the world wide web.
However, before we get into the 'how', we have to understand the 'what' and the 'why'. So let's dive right into it.
What is Online Reputation Management
Your online reputation management is one of the most valuable assets of your business. It's what people find and see about your brand on the web, and as expected it heavily shapes their impression of you.
So it should be no surprise that your internet reputation should be managed properly. This is where online reputation management comes in.
As a simple definition, Online Reputation Management is the process of measuring and altering the internet's perception of a brand for the benefits of your company.
Pretty straight forward, right; but what does this involve?
In essence, ORM requires you to monitor what is being said about your business on the web and respond appropriately in order to build confidence in your product or service.
In today's competitive marketing environment, however, just managing your online reputation is not enough. Your competitors might be taking a more active role in developing their online brand reputation so as to engage new customers.
Social Media has shifted the Marketing Power Game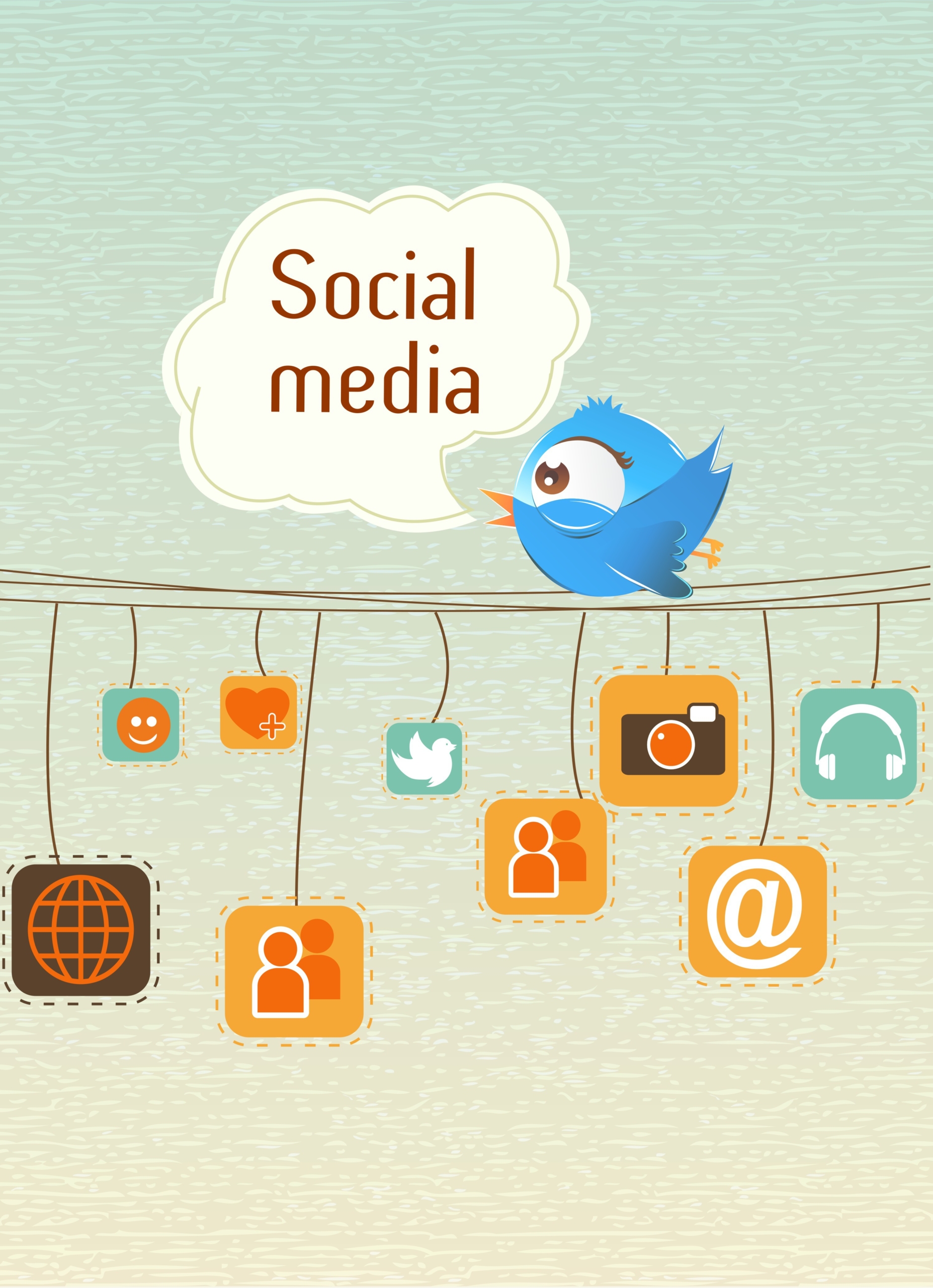 You will remember a time when brands used to advertise and sell to a relatively passive audience where communication came from promoters to the public and there was little interaction the other way around.
Well, marketing messages are not that easy to control anymore. Those days are long gone and Social media has shifted the power from the businesses to the consumer.
As you might expect, therefore, Social Media plays a pivotal role in any Online Reputation Strategy. Platforms like
Face Book, Twitter, YouTube and Instagram allow people to interact, create and share information and ideas about anything under the sun, including your brand.
Two aspects of social media are pivotal to understand when addressing your internet reputation;
Interaction: Unlike traditional marketing, social media marketing is a 2-way street, therefore we need to make sure that we are involved in the conversation and that we are saying the right things. This is managing our online reputation.
Community: We need to create a community around us with which we engage and add value so that the community sees us as an authority. This is where we develop our online brand reputation.
Why bother with ORM. What's the worst that can happen?
I'm just going to come out and state it. The consequences of doing nothing can be catastrophic!
Yes, really.
It's quite simple actually. If you don't control your brand online, then someone else will. This exposes you to uncontrolled negative online reputation.
The public's opinion about your products can easily be expressed, shared and go viral. There's no way to run away from this, however, you can take measures to control it.
Negative review sites such as ripoffreport.com, in which users can express their opinion on your brand, are a very powerful platform to fuel negative online reputation for your business. These sites tend to rank quite easily on Google search results, which means that the criticism about your brand will be exposed to large audiences.
The outcome of this bad press may be as small as having a potential customer clicking on a competitor's search result instead of yours or as intense as an industry-wide boycott of your brand.
Apart from the financial implications of negative internet reputation you need to consider also the time and resources you will have to sacrifice to address the situation.
Since this is the internet we are talking about, you can rest assured that the outcome of any bad publicity will continue to come up in search results for years after you remedy the situation.
To drive this point home let's look at a real life example.
If you're a fan of reality TV, maybe you've heard of Amy's Baking Company. This was the company behind a coffee shop that was featured on the Chef Gordon Ramsay's popular TV show, Kitchen Nightmares.
The coffee shop was owned by a married couple, whose behaviour on the show was so terrible that Chef Ramsay had to walk off the episode for the the first time in his career.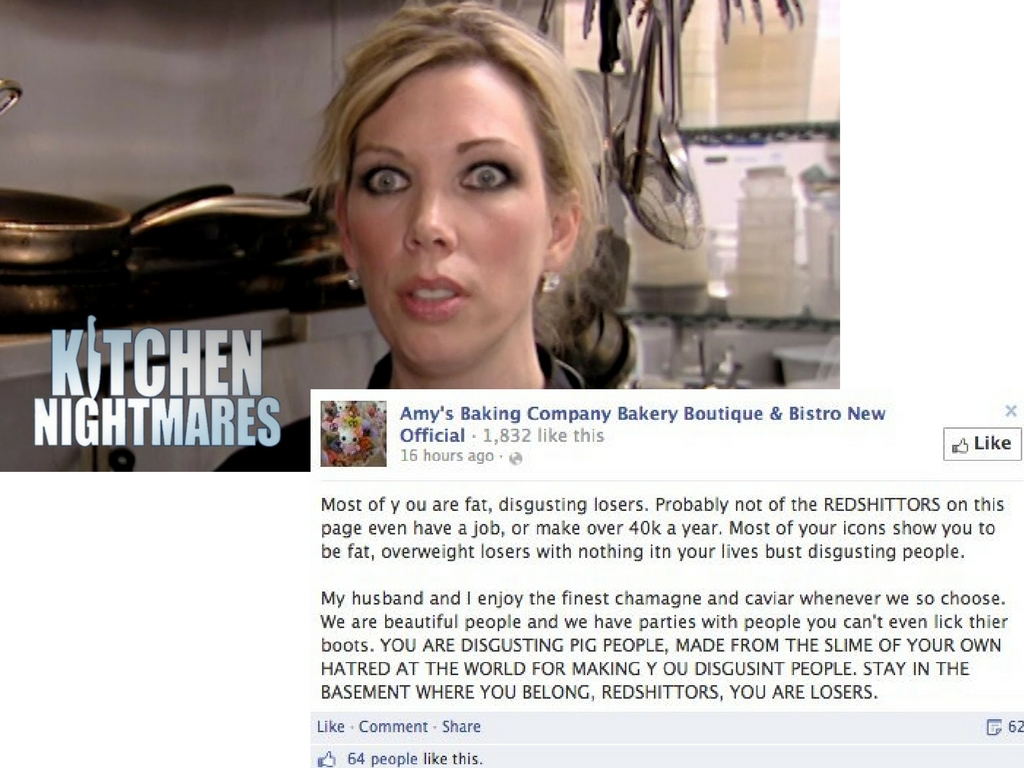 Following the airing of the show, the public got on social media and started expressing outrage and ridicule at the couple and their business. Negative comments about the restaurateurs also appeared on Reddit and Yelp.
There were various ways how the owners could have handled the situation however their lack of any ORM awareness (coupled with their lack of common decent behaviour) led them down the social insult route.
The couple went against the public on social media and actually posted offensive comments and abuse. As a consequence, the bad feedback from the public kept growing and went viral.
As you can expect did this not end well, in fact they went out of business very fast shortly after.
There are various other situations of companies missing the mark when it comes to social media posting. Check out some of other social media disasters.
How To Get Started With Online Reputation Management
A good online reputation repair system can mean the difference between a dissatisfied customer setting off a viral wave of bad publicity or spinning a bad situation into a positive PR exercise for your brand.
Without the knowledge and proper online reputation management techniques, however this process can be a very frustrating, time consuming and costly exercise.
Do not despair yet.
If you want to get your internet reputation strategy on the right track, start by looking into these 7 processes.
1. Build a Competent Online Reputation Team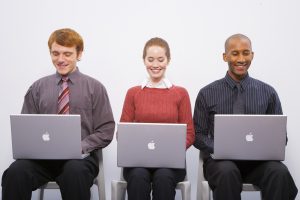 First off you need to Build capacity within your organisation and have the right people handling this function.
ORM is a two-way conversation, which means our customers are engaging with us continuously, therefore, the person or team taking on your internet reputation management must understand your product and have some background in customer service.
Having an appreciation of the customer's perspective is key when posting on social media.
In fact the Golden Rule of Online Reputation Management is quite simply to treat your customers how you would want to be treated yourself.
So, exercise empathy and restrain before posting or replying to complaints. Remember that everything you put out there will make it in the public view and will have a digital time stamp, which means that you will not be able to get it back.
2. Develop a Stronger Online Presence by Blogging
When you need to have an online space where you write long form content you will need a blog. Blogging is actually one of the best online reputation management tools.
There are various online resources out there where you can find guides to creating a blog, and it is not our intention to go into detail on this here. We do, however, have the following tips, in order to make the most out of your blog from an ORM perspective.
Publish high-quality content on your site as this will allow your site to rank better.
Update your page regularly with new content.
Make sure you are regularly present on your site to reply to blog comments from readers.
Register with local business directories like Yelp and Crunchbase.
Optimise your blog's SEO to enable your site to get to the top positions in search engine results.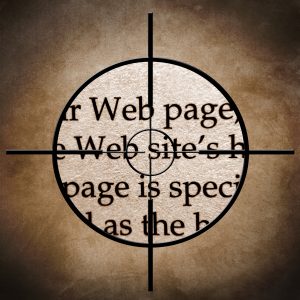 Your aim is to get your blog posts at the top of search engine results. Think of Google's First Page as your online business card.
When consumers search for information about you or your brand you want them to find relevant and positive results. If Google's results are crowded with indifferent sites or worst yet negative statements then the user isn't finding something that will compel them to buy.
So you need to control as much as possible what is appearing on the first few pages of Google's search results when someone searches for your brand.
Which sources are talking about you on the internet and what are they saying?
If it's mostly negative, then your online reputation management strategy will be to push the positive comments and pages to the top spots of the search results. This is where Search Engine Optimization comes into play, and since SEO can get quite technical and complicated you should consider getting professional help for this.
3. Maximise your social media presence
Open a Facebook account, LinkedIn, YouTube or any other social media account you can reasonably maintain. Do not open social accounts just for the sake of it however.
Managing different social platforms requires considerable time commitment so only open accounts for which you have the capacity to manage and build up. Better to open one and maintain it well than be present on 5 different social media which are rarely updated.

It goes without saying however, unless you're a celebrity, you should not use your personal account to promote your business. Create a separate business account instead. This is free anyway.
Now the golden rule for social media is to post regularly and maintain relevant and updated content to gain followers and entice shares. So you should try and understand what messages will trend, what type of posts will get people motivated to share and view your brand in a good light.
Let's take a quick look at the main social media platforms available and when to use them.
Facebook is the most popular one out there with the maximum number of followers. If you have to open just one account probably Facebook is the one, especially since you can share various types of information, like blog posts, images and videos. It is also very easy to communicate with your audience on Facebook.
LinkedIn is easier in terms of maintenance compared to other social media. It is a more professional type network and would be ideal, for example to find potential candidates to work for your company and also for setting up your Company's professional reputation.
YouTube is excellent to show off your products to potential customers with detailed walk-troughs of the product features. Posting on YouTube is probably the most time-consuming and difficult of all social platforms as you need to ensure you have high quality videos. This makes it a big financial and time investment.
Pinterest and Instagram are image based social platforms and therefore ideal for sharing photos with your audience and also short videos. These platforms are good for connecting with your most passionate customers and sharing photos of new products in stock, for example.
Location based social media are good for brick and mortar businesses. To put yourself on the map and be found easily, platforms like Yelp, TripAdvisor and Foursquare are ideal resources.
Manage Your Social Accounts Intelligently
Now managing various social platforms can be quite daunting however if you have the appropriate tools these can make things much easier. Two such helpful programmes are Hootsuite and Trackur.
HootSuite lets you manage your entire social media presence conveniently from one place. Schedule posts, get detailed analytics to measure the performance of your campaigns and also share tasks with other team members.
Trackur monitors the main social media sites and forums. It allows you to audit keyword searches, and determines their ratings and their influence. It also provides a handy mobile dashboard showing the key performance indicators in one place.
Hashtags – Make sure you know what they're all about
Trending hashtags can be a great source of exposure on social media platforms like twitter and instagram. Many marketers jump on this bandwagon to get new followers and brand recognition, however you have to make sure to research the hashtag and address it appropriately.
The popular clothing brand GAP, for example, did a very poor job at this during Hurricane Sandy. With people dying and several losing their homes Gap sent out a very insensitive tweet.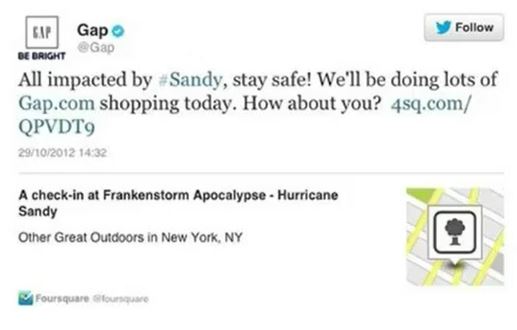 It eventually took it down and apologized, but the the brand reputation damage had already been done.
4. Protect Your Name
It would be a good idea to register your brand name with various social accounts (even if you don't actually create a profile on each social platform).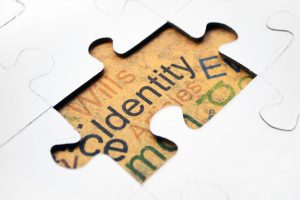 There are two reasons for this.
Firstly, you would already own the name in case you decide to start engaging on the platform in the future. When any of the social networks don't have your name available this can cause a disruption in your marketing strategy.
Secondly, you avoid your brand name from getting taken up by other users. This is more common that you might think.
Your brand username can be taken up by other individuals either in order to make a quick buck from you for the rights to the name; by an affiliate to promote the product, or worst yet, by an angry customer or competitor with the intention to damage your brand name.
A useful tool to keep track of the social networks and register your username on each is KnowEm which lets you build various profiles on a number of different social networks.
5. Monitor what they are saying about you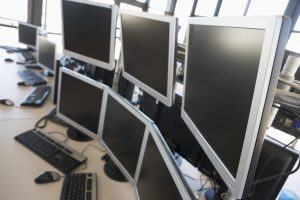 When people are frustrated or disappointed they naturally look for a source to vent their anger. That's why so many angry customers take to Twitter and Facebook to rant about everything, from lost luggage to faulty products.
In order to keep on top of this, you will need to be constantly monitoring your brand for any social media mentions, so that you can address any issues before they spiral out of control.
Addressing a customer complaint with a prompt statement is better than a late reply with more information. Respond with a simple statement like "We are aware of the problem and we're working on it. We will get back to you as soon as possible".
Even large companies with all their resources can find it overwhelming to stay on top of things 24/7. A good example of this would be British Airways Twitter account mishap.
Following a bad flight with British Airways, one customer took to Twitter to complain about his poor experience and lost luggage. Nothing new here; however when BA did not address his tweet he took the matter a step further. He used Twitter's paid service to promote his Tweeted complaint to BA's followers. That's 406,000 followers.
British Airways failed here because it did not address this customer complaint in time. It was damaging to them because the tweet came out and got interaction before they could even address it.
In fact, it took BA over 8 hours even to respond to the promoted Tweets. This was because BA did not have a 24/7 social media presence and the tweet came outside of the office hours. A brand as large as British Airways should obviously have 24-hour online customer care representation.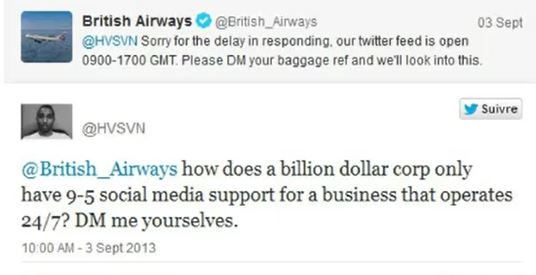 The consequences of doing nothing can be disastrous. Having a well-trained and reactive customer service department would have prevented all this negative publicity from the start.
The larger you grow your presence online, however, the more there is to keep track of and you can find that monitoring can be quite overwhelming and time consuming. Fortunately, there are various tools that can help you with this task.
Google Search
A simple and free tool for monitoring your brand online is google search. Search engines are often overlooked as a way to find mentions of your company or its products.
Google Alerts and Yahoo Alerts
Set up Google Alerts for your brand name, company name and any other common variations associated with your company. Google/Yahoo will monitor the web for any new content that may pop up related to you and send you automatic daily emails.
Social Mention
This is another useful tool for monitoring which focuses more on social media platforms. Social Mention offers real-time social media search and analysis, thus helping you catch immediate conversations around a specific keyword. You can subscribe to the feed, get email alerts and even download the results in Excel file.
6. Encourage positive reviews and Promote them
Build the Credibility of your brand by leveraging testimonials. Testimonials can be collected directly from clients or picked up from social media sites and reposted on your company website.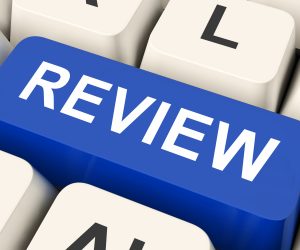 Customers will easily get on social media to complain and criticise but they will rarely take time to make a positive review unless you prompt them. You therefore have to make it easy for them to post online reviews that throw a positive light on your brand reputation.
The statistics presented by this Local Consumer Review Survey clearly outlines the impact that online reviews have with consumers nowadays.
To collect reviews from customers you need to provide them with a quick and easy method for them to leave comments or reviews. It is very important that your website clearly displays your company contact details and different options to contact you. Also, make sure that the review function is easily accessible on your website.
Encourage them by directing your customers to a place where they can leave reviews. E-mail them after an order has been shipped, for example, with a link to the review page. You may also try to encourage feedback through incentives.
Take every opportunity to ask your customers to leave reviews both on your own blog page as well as other important third party websites within your industry. Linking to other website feedback is also an important SEO strategy since this will signal to google to rank those reviews even higher up in the search results.
Building a record of positive reviews and promoting them will give potential customers confidence in your brand and encourages them to shop with you instead of your competitors.
This is even more essential if you're the new kid on the block. Try and get a few reviews under your belt as early as possible to start building trust in your brand.
7. Deal with negative reviews appropriately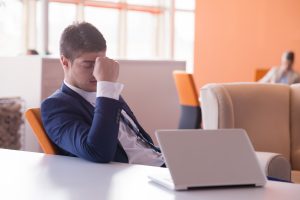 We know. It hurts to read poor reviews about your product or services, but these can be an invaluable source of information to learn more about your audience and help you improve your brand or your message. Therefore be open to criticism and feedback.
Bad comments should not be deleted, especially if they are true, but they should be addressed and solved.
If negative content is up on another site and the claims are false then you need to contact the webmaster of that site and ask for it to be remove or edited. In this case be prepared to supply documents or proof to support your claim that they are reporting false information.
If the comment is true, then you have to present your side of the story honestly and authentically and take steps to correct the situation.
Whatever you do, never attack people on social platforms and make sure you are calm and composed before replying to any bad comments.
Let's take a look at how a big brand, like Nike handled a negative situation to come out on top.
O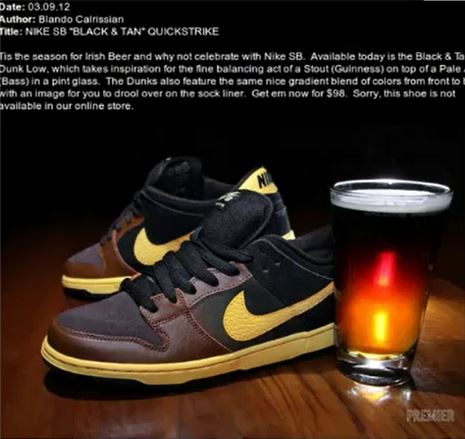 n St Patrick 's Day of 2012 Nike launched a pair of running shoes as a salute to the Irish. The company dubbed these runners as The Black & Tans. However, what they didn't realise, at the time was that this name has a very bad connotation to the Irish.
The Black & Tans where British paramilitary troops sent to pacify the growing Rebellion in Ireland during the 1920s.
This marketing idea therefore backfired badly and it was apparent that someone at Nike did not do their research very well. However, their online reputation management team did a brilliant job to repair the situation.
First off, Nike came straight out and apologised. They then shelved the running shoes and those that were already produced where given to charity.
These actions by Nike were essential for them to turn a bad situation into a good marketing spin and Nike actually came out on top of this situation.
With all the sources available for people to vent their frustration, it can be difficult to know if you're the subject of any online rants or damaging internet reputation reviews. This is why a tool like Complaint Search Box can come in handy.
Complaint Search Box performs a specialised search on over 40 complaint websites. You can therefore perform a quick daily search to find if customers are posting any negative comments about your brand. This will allow you to address them in a timely manner.
Start planning for the future of your brand reputation
So, is your business set-up for proper online reputation management?
If not, you should consider where to begin. Start by finding the right persons to run your Online Reputation Management strategy and get them to set up your business blog and social media accounts. Make your brand available online to address customer complaints and negative comments as fast as possible and highlight the positive feedback.
Dealing with online reputation management is essential within any business because you need to be out there to safeguard your brand name when it is being tarnished.
Online Reputation Management, however is not just about reputation repair. It is also about positioning your company as an authority in your space in order to drive the online conversation positively around your brand.
The following infographic prepared by MDG Advertising brilliantly incorporates the most essential aspects of Online Reputation Management in one poster.

Do you need more information?
Would you like to know how we can help you monitor your brand reputation?
We are eager to help you achieve a better online presence. We are based in Malta but with a Worldwide reach!
The Web Ally has been approved as a service provider for the newly launched ECommerce Grant Scheme
At the end of 2016 (November) The Measures and Support Division within the Ministry for European Affairs and Implementation of the Electoral Manifesto launched the eCommerce Grant Scheme. This scheme forms part of the Business Enhance ERDF Grant Schemes initiative and is aimed at Small and Medium Sized Enterprises looking to expand their sales channels online.
The e-Commerce Grant Scheme falls under the European Regional Development Fund (ERDF) Grant scheme and under Priority Axis 2 'Consolidating investment within the ICT Sector' of Operational Programme 1 2014 – 2020 'Fostering a competitive and sustainable economy to meet our challenges'
The Grant will remain operational until 31st December 2020, subject to availability of €5 Million fund allocated to this grant.
What is this about?
The ecommerce grant is aimed towards SMEs who intend to develop and ecommerce website or even upgrade their non-ecommerce existing website to include an online shop with a payment integration system. The scheme covers up to 50% (capped at €5,000) reimbursement in cash on eligible costs.
This Grant Scheme is aimed at encouraging local SMEs to increase their competitiveness by including online sales in their daily operations.
Is my company an SME?
The main factors determining whether a company is an SME, and hence eligible or not to this grant, are;
Staff Headcount
Micro less than 10 employees
Small less than 50 employees
Medium sized less than 250 employees
Turnover
Micro less than or equal to 2 Million
Small less than or equal to 10 Million
Medium sized less than or equal to 50 Million
Which costs are covered?
Domain name registration (fee for the extent and duration of the
project)
Hosting (fee for the extent and duration of the project)
Content Management System (CMS), software including required
licenses for the extent and duration of the project.
e-commerce Website and/or Mobile Application design in line with
the brand identity of the organisation
Shopping Cart integration
Other Set-up fees (including setting up and configuration of the
CMS system, system design, customisation and development,
integration with payment system/s, implementation of the required
security features, testing and go live).
All the costs to cover the design and set up of a new website which includes a shopping cart system and a payment gateway, are covered by the grant. Other items, like Search Engine Optimisation and Digital Marketing, are however excluded.
With this in mind, we have come up with a reasonable Digital Marketing package to get you going with your new website. We will be happy to provide more information when we meet to discuss your requirements.
Can I choose who develops my website?
Of course, you can! but only from a list of "accepted service providers". This ensures that the Grant beneficiaries can put their mind at rest to the fact that the service provider engaged through the scheme has a high level of competence and experience.
I'm really interested ! Where do I start?
Good ! you came to the right place as we are all geared up to help you achieve the utmost out of this Grant and most importantly to develop a website which will work for you.
Get in contact now by calling +356 7944 6495 or email info@thewebally.com and we will be in contact shortly to organise a meeting.
More information about the ERDF Scheme can be obtained from the ERDF Selection Criteria document or by visiting the EU Funds Website.