All those who want to start a new business or expand their existing business to reach out to more people need an active website. For any e-commerce business, a website is essential and helps reach more customers.
A good website requires a platform where you can create an innovative and interactive online space.
WooCommerce is one of the many website builders out there, and since every business has unique requirements, we will discuss what this particular website builder has to offer.
Is WooCommerce the right choice for your e-commerce business? Read along, and all your questions will be answered.
All e-commerce businesses require a website so customers can order products and interact with the owners through a virtual platform. While such a business model reduces the overhead costs, there are many unique requirements that you must fulfill to give your customers a wholesome experience.
What is WooCommerce?
WooCommerce is an open-source e-commerce website builder with a WordPress plugin. This builder is famous since 28% of online shops run on it. There can be a wide range of items on the website, and this builder will still run as if it has no traffic and you are the only customer on the floor!
Looking at the top one million e-commerce websites, more than one-fifth are powered by WooCommerce. Thanks to this plugin, you will have a store that runs smoothly and does not hang while customers try to go from one item to another.
As a WordPress plugin, WooCommerce provides compatibility with all WordPress websites. You can design a website with unique themes and create the look of your choice.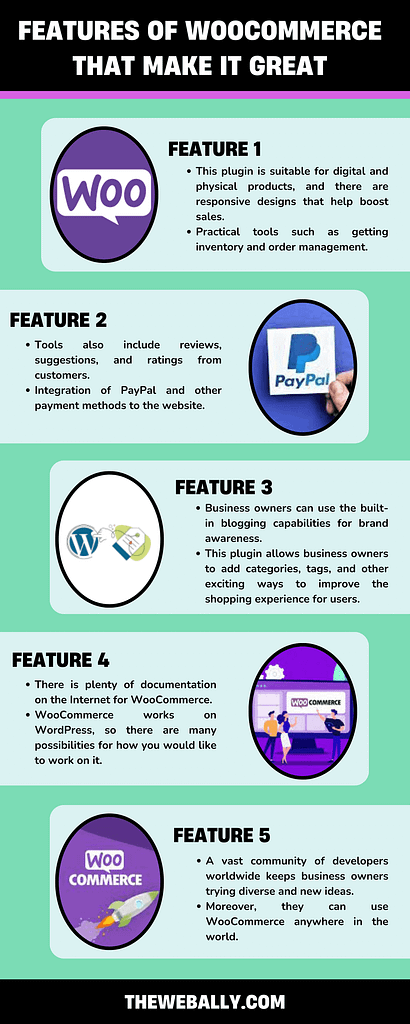 Features of WooCommerce That Make It Great
Woo Commerce has the following features, which make it a good choice for all business runners:
This plugin is suitable for digital and physical products, and there are responsive designs that help boost sales.
Practical tools such as getting inventory and order management.
Tools also include reviews, suggestions, and ratings from customers.
Integration of PayPal and other payment methods to the website.
Business owners can use the built-in blogging capabilities for brand awareness.
This plugin allows business owners to add categories, tags, and other exciting ways to improve the shopping experience for users.
There is plenty of documentation on the Internet for WooCommerce.
WooCommerce works on WordPress, so there are many possibilities for how you would like to work on it.
A vast community of developers worldwide keeps business owners trying diverse and new ideas. Moreover, they can use WooCommerce anywhere in the world.
What Are The Advantages of WooCommerce?
WooCommerce has a lot of benefits for users, and these can make the business more meaningful and a very comfortable shopping experience for customers.
It is user-friendly, which means that the developers and the users will find it easy to make the most of their experience on the website.
The plugin's themes are not complicated, making it easier for all users. Moreover, this plugin is flexible. Whether you have cosmetics or garments to sell, WooCommerce allows users to add as many items to the website as they want.
WooCommerce gives users all the control over updates, backups, and even security.
The free themes and convenience tools mentioned in the features section make this website builder straightforward and practical.
Apart from being customizable, WooCommerce is also optimized for search engines. This quality ensures that your website will be visible on Google, and plenty of people can see it among the top searches.
If you have a blog on WordPress, you can use WooCommerce to extend it for fundraisers and other financial assistance plans.
Many users start as bloggers, but when they start a new venture, they can use this website builder to add more e-commerce features that this builder offers.
Any Disadvantages?
WooCommerce has some minor shortcomings, which include its specificity to WordPress. You cannot benefit from the excellent features and user-friendly tools if your website is on any other form.
The website performance will improve if you add fewer plugins on WooCommerce. This disadvantage makes it difficult for retail business owners to add more to the website.
If you want to add more plugins to make the website more interactive, this builder might not support your enthusiasm!
Another disadvantage for small e-commerce businesses is that WooCommerce has a lot of paid themes, which are more interactive and have more advantages.
If you wish to spend on something other than the website, this builder might have a few options, while the good tools are available only if you pay for them.
Last Words
WooCommerce is a good choice for e-commerce businesses; it is the best option if you are on WordPress.
Many retail companies use this website builder, which testifies to its popularity. To try out this builder plugin, you must know what it offers.
The convenience of WooCommerce will add to your business model and increase your customers significantly.
We also discussed some disadvantages, which will make users understand this website builder better.
All e-commerce websites can use WooCommerce as a safe and easy option for expanding their reach and making their business a hit.
If you need help in setting up your e-commerce store, Web Ally is here. We can create customized ecommerce stores and web fronts to ensure quality work. Contact us now!