Website optimization has become a serious matter that all marketers bring up these days. Why is it a big deal? And why do you need to know about it?
Website Optimization tools help in automating the processes that make your website more apparent. These tools result in a higher ranking on Google, which means maximizing the conversion rate.
If your website is more visible, your business will grow, and that is the motive of having a website in the first place. Here are six website optimization rules you must know so that you can enhance your business and grow profits.
The Best Website Optimization Tools
The most utilized optimization tools are the ones that website managers and business owners admire, even though the nature of their businesses is diverse.
These tools not only build up better visibility for the website but directly contribute to the growth of the business. Therefore, we recommend you get to know these tools and use them to expand your business reach.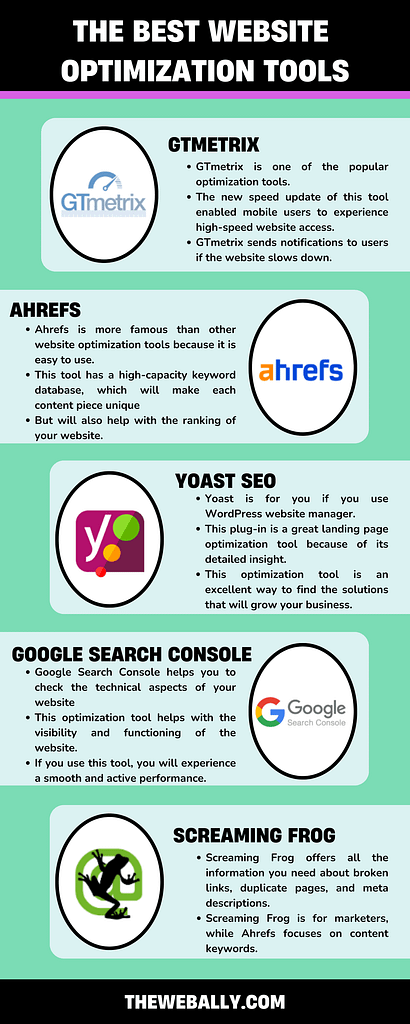 1. GTmetrix
GTmetrix is one of the popular optimization tools, and you will find many recommendations. In 2018, the new speed update of this tool enabled mobile users to experience high-speed website access.
Has it ever happened to you that you check out a particular website, but the pictures do not load on time? This tool will ensure that your customers do not go through this and they get to see the whole website on their mobile device in the same way as they would see it on a computer.
Moreover, the page loading is faster, and that only means that you will get more visitors as the webpage will rank higher in Google searches.
Another feature of this tool is that you can track the performance.
GTmetrix sends notifications to users if the website slows down. You can see how the page appears and loads on different devices, such as mobiles and laptops.
2. Ahrefs
If you haven't heard of this tool, you should read up some more about website optimization and tools! Ahrefs is more famous than other website optimization tools because it is easy and since it is a keyword explorer, it helps with all copies that go on the website.
This tool has a high capacity keyword database, which will make each content piece unique but will also help with the ranking of your website.
Another fantastic quality of this website optimization tool is that you get suggestions for high-density keywords alongside the annual search trends. This feature helps decide if the particular keyword is beneficial for the website or not.
Moreover, there are insights into the searchers' behavior and preferences. Once you know what your customers are looking for, you will be able to suffice their search.
3. Yoast SEO
Yoast is for you if you use WordPress website manager. This plug-in is a great landing page optimization tool because of its detailed insight into how this website manager (WordPress) works.
If you subscribe to the paid version, you will be amazed at how amazing this version can be for WordPress websites. The optimization of target keywords, internal linking and content insights. This optimization tool is an excellent way to find the solutions that will grow your business.
Many website owners, and bloggers begin working on their websites with WordPress. One of the biggest website managers, WordPress has several functions and features that users do not know.
It is an excellent way to find solutions to grow your business.
4. Google Search Console
You will be able to check the technical aspects of your website with Google Search Console. This tool will give you automatic coverage and projected figures related to how the website will rank on this search engine.
You can submit a site map to avoid errors and even check security and robots.txt files. This optimization tool helps with the visibility and functioning of the website. If you use this tool, you will experience a smooth and active performance.
5. Screaming Frog
This website optimization tool is a good option as it helps marketers with all kinds of businesses. This tool offers all the information you need about broken links, duplicate pages and meta descriptions.
There are so many features that we cannot discuss, as the scope of this list is to provide all users with the best website optimization tools. The details of each are quite extensive, and users must read about them once they decide to use a particular tool.
Screaming Frog is for marketers, while Ahrefs focuses on content keywords. If you are an e-commerce business owner, Screaming Frog will be a more adequate choice.
6. Keywords FX
Keywords FX enhances keyword optimization to ensure that your website ranks higher than others. This tool will show you a list of all keywords that work for users in the best way.
You have the option of exporting your data to CSV and making the website more efficient. If you want to work on your website for more meaningful content and higher traffic daily, this tool is a must.
As our discussion comes to an end, the detail of each tool is lesser because many of these optimization tools have similar features which are not repeated. However, the nature of each website optimization tool should match the nature of the business.
If you have a blog Ahrefs or Keywords FX might be a good choice. However, marketers and e-commerce business owners should select the optimization tool that is supportive of their business.
The Importance of Website Optimization Tools
Every business owner might have asked this question at some time. Why are website optimization tools important? As every field advances, business relies on technology and incorporation of innovative ideas and better tools to attract website visitors and, in turn, get more sales.
Every business is unique, and the website maintenance work is different. However, if you choose a compatible tool, the outcome will be more profitable as the tool will provide solutions that suit your website.
Moreover, website optimization tools help with uncovering the page elements that slow down a website. If there are any broken links, or if there is some error in coding, Google does not run your website high. These tools will ensure that you get to improve your business presence online.
Conclusion
Website optimization tools are an integral part of the business. They can ease the identification of the problem and help in its resolution.
Depending on what specifically you want to achieve for your website, the tools discussed in this article can offer you a helping hand.
If you are confused about their usage, you can get in touch with Web Ally, where we can help you get the most out of these optimization tools. Contact us now!